The exhibition ◯◯Life(maru-maru life) is a group painting exhibition by three Japanese artists Mio Ebisu (London), Kanako Tada (Vienna), Ryota Nojima (Tokyo).
Due to the Covid-19 restriction and uncertainty, the exhibition will be street view only from outside of SET studio Lewisham for the public as well as online.
reference:
Undoing Landscape at Erste Foundation
Despite the current lockdown, those interested in art will have the opportunity to visit an exhibition by students of the Academy of Fine Arts Vienna between 28 April and 27 May. The windows of ERSTE Foundation, located on the ground floor of building F of Erste Campus, serve as exhibition space.
The exhibition "Undoing Landscape" was created in connection with the seminar of the same name at the Academy of Fine Arts Vienna led by Adam Szymczyk, which was initiated by the Kontakt Collection and supported by ERSTE Foundation.
The seminar dealt with the topic of landscape. The nature of the experience of landscape is associated with diverse perception and movement. Such an experience was not possible for the students of the Academy of Fine Arts due to the Covid-19 pandemic. Instead of walks and site visits, the discussion of this topic was limited to digital conversations with Adam Szymczyk and international artists. The students documented the outcome of this digital exchange about landscape with silkscreen printings. They intentionally used a technique that they are not familiar with. The technique and format were standardized for everyone. The resulting silkscreens are on display in the ERSTE Foundation's windows and can be viewed from the outside.
Works by Viktoria Bayer, Anna Bochkova, Emma Carlén, Kristina Cyan, Louise Deininger, Marie Yaël Fidesser, Lisa Grosskopf, Anthia Loizou, Clemens Matschnig, Taro Meissner, Kamryn Pariso, Ursula Pokorny, Rasmus Richter, Olga Shapovalova, Rini Swarnaly Mitra and Kanako Tada.
The exhibition "Undoing Landscape" was on view from March 16 to 23, 2021 at xhibit, the exhibition space of the Academy of Fine Arts Vienna.
Cover picture: In the studio working with silkscreens for "Undoing Landscape", 2021. Photo: Anthia Loizou
address :
Am Belvedere 1, 1040 Wien
duration:
28.4.2021-27.05.2021
referrence:
Undoing Landscape at Erste Campus
Building on the "Principle of Equality" seminar last year, which included the students' encounters with artists—Daniel Spoerri in Vienna, as well as Elisabeth Wild and Vivian Suter in Panajachel, Guatemala, and concluded with the exhibition Wild Spoerri Rosenstein in 2019, the 2020–21 seminar convened by Adam Szymczyk considered the notion of landscape as both a physical and imaginary space.

Landscape is a contested field where political and cultural projections clash and intersect. It is also in this intersection that "landscaping"—inextricably related to "picturing landscape"—can be situated and questioned from several different points of view.

This one-week presentation of works by students of the seminar "Undoing Landscape" I held in 2020 and 2021 at the Akademie der bildenden Künste in Vienna is a result of a collective process. It involved several online meetings with guest speakers – the artists Rosalind Nashashibi (London), Ahlam Shibli (Berlin), Katharina Rosenberger (Zurich) and Ross Birrell (Glasgow) – as well as reading of texts of literature and viewing of films and video works. The authors who guided us through landscapes, always real and imagined at the same time, range between the anonymous Periplus of Erythraean Sea (1st century AD), Francesco Petrarca (The Ascent of Mt. Ventoux, ca. 1350), Malcolm Lowry (Under the Volcano, 1947) and Heiner Müller (Bildbeschreibung, 1988).

The students who joined the seminar and produced works and texts for the exhibition come from different walks of life and work in diversity of media. After the seminar formally came to an end in January 2021, they produced silk screen prints in response to the task defined by one technique and one format – DIN A0, the largest standard print size available, which I suggested to the students as a way of bringing a common denominator to the variety of topics raised and responses that occurred during the seminar. For many participants, their silk screen print was their first work realized in this technique, which has a history related to mass reproduction employed for political causes—asking all participants for a willful renouncement of free expression, allowing all fine differences to emerge in keeping with the many lines of thinking that opened up in the seminar. While focusing on the transfer of content, the process required a sort of deskilling and suspension of any learned métier on part of the students.
The experience of landscape is, in its nature, associated with peripatetic perception and movement. Limited by restrictions imposed on mobility by the global condition of pandemic, we were barred from common walks and site visits. Our mode of exchange was reduced to encounters on the screens of laptops, the grid of faces distributed in domestic settings of apartments and studios. Another landscape constituted itself in the collage made of detached settings, changing as participants joined and left, kept together by the set time of meetings. Has this experience, so unique to our era, left traces on individual works?

The exhibition in the windows of xhibit will be followed by a joint portfolio including works by all participants, which can be used in future iterations of the project.

Artists
Viktoria Bayer, Anna Bochkova, Emma Carlén, Kristina Cyan, Louise Deininger, Marie Yaël Fidesser, Anthia Loizou, Clemens Matsching, Taro Meissner, Kamryn Pariso, Ursula Pokorny, Rasmus Richter, Olga Shapovalova, Rini Swarnaly Mitra, and Kanako Tada.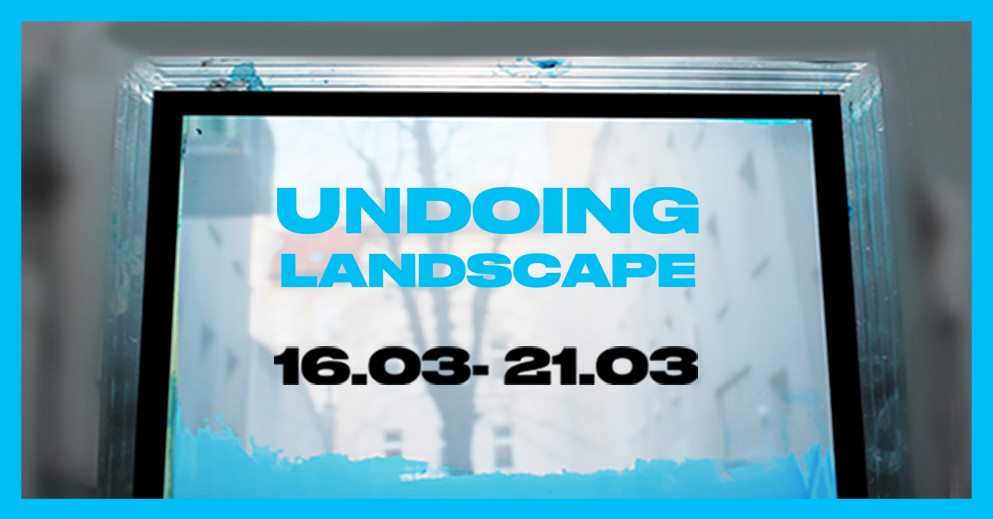 references:
I contribute an essay : 'Sense of Place'(2021) for The Inhabitants: Adopt a Project, directed and organized by Indeks.
Indeks is the research and discourse exchange initiative that initially attempted to trace art practices in Bandung, Indonesia from the early 2000s.
About The Inhabitants :
Adopt a Project,
there are meeting and discussions on the cultural mobility and diplomacy through culture have occasionaly been organized. Adopt a Project is an experimental proposition that aims to challenge the selection process of a residency program. Questioning the locality, materiality and methods and engagement in delivering residency programs, Adopt a project is a web platform for artists to publish their project proposal to be adopted to be residency organizers.
This method is experimenting how artists and art organizations see proposed and connect it to their own locality to examine which one is more appealing to them,to understand why some projects are realized "offline" and not online, and finally to propose a different perspective of the residency programs.
エッセイ 'Sense of Place' (英語,2021年)を寄稿しました。パンデミックを受けて、なかなか会うことができない友人や知人はもちろんのこと、この世界で働く全てのアーティストやアート関係の仕事をする人々に向けて書きました。
You can read here-> Sence of Place
Other contributed texts->The Inhabitants-article
I contribute 'Reexplorering Kanji Body System ' with a writer,Ann Cotten: text and visual text included to the publication series The New Alphabet volume1 by HKW-Haus der Kulturen der Welt in Berlin.
About The New Alphabet-Publication series :
作家のアン・コッテン氏との共著『Reexplorering Kanji Body System』が、ベルリンの総合芸術センターHKW(Haus der Kulturen der Welt)が企画する書籍シリーズ『The New Alphabet』の第1巻に掲載されました。 この作品は、漢字が持つ言語体系の再考と越境文学の可能性を、テキストとヴィジュアル・テキストで構成し、表現されています。
January,2021
I exhibit my painting for 15th anniversary group show of Art Space LOOP HOLE, Tokyo,2020.
LOOPHOLE15周年記念
『チッチャイーノ展』
木曜日 – 土曜日
※日曜日は作家在廊の告知があった場合に限りOPEN
14:00 – 18:00
★前半/会期 11月7日(土)~11月28日(土)
秋山幸   飯田Jennifer桃子   石井トミイ   稲川江梨
今井俊介    今井貴広   今村仁   大久保あり   大槻英世
岡野智史   鹿野震一郎   木村俊幸   小林史子   ジャンボスズキ
杉山都葵   高橋大輔   塙将良   原汐莉   水上愛美   光藤雄介
宮崎勇次郎   村上綾   森田浩彰   森野大地
★後半/会期 12月5日 (土) 〜12月26日 (土)
池崎拓也   石川遼   EKKO   榎倉冴香   OJUN   小川泰
小野冬黄   小山維子   木下令子   木村有沙   木村俊幸
小嶋基弘   齋藤雄介   佐藤克久   佐藤平馬   佐藤万絵子
清水勇気   五月女哲平   多田佳那子   棰石憲蔵   中園孔二
なしの   hanage   藤原優子   益永梢子   松田修   水戸部七絵
宮本穂曇   村上郁   山瀬まゆみ   横田章   和田みつひと
※中園孔二 作品 借用/ 小山登美夫ギャラリー
INSTAGRAM LIVE TALK
Aus der Serie CONVERSATIONS:
Samstag, 14. November, 13 Uhr
Ann COTTEN (Schriftstellerin, IFK Junior Fellow in Wien) und Kanako TADA (Künstlerin, Aufenthalt in Wien dank Pola Art Foundation) sprechen u.a. über Ernst JANDL im Japanischen
https://www.instagram.com/christinekoeniggalerie/
in Kooperation mit der Vienna Art Week
+
INSTAGRAM LIVE TALK
From the series CONVERSATIONS:
Saturday, November 14, 1 pm
Ann COTTEN (writer, Junior Fellow at IFK, Vienna) and Kanako TADA (artist, currently in Vienna thanks to Pola Art Foundation) in conversation about – et al. – the translation of Ernst Jandl's Viennese lyrics into Japanese
https://www.instagram.com/christinekoeniggalerie/
in cooperation with Vienna Art Week